THE DEFINITIVE END OF PALUGYAY AND SONS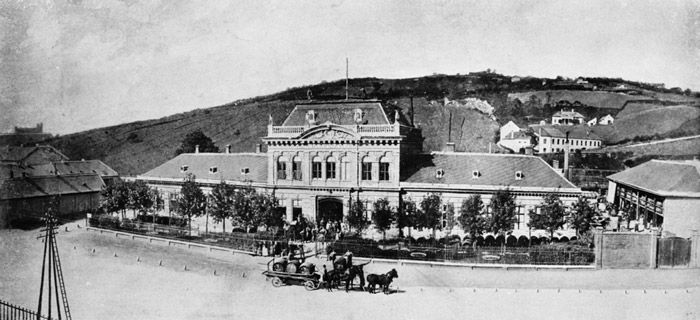 Palugyay Palace. It is currently the seat of the Ministry of Foreign Affairs. Photograph from the beginning of the 20th century.
At the end of 1927, due to poor harvests, the economic crisis and declining demand in the wine market, Palugyay and the sons reported their first major loss. However, at that time, the Palugys were only minority shareholders of a company called the Czechoslovak Participating Company, etc. Palugyay and sons. One of the important owners of the mentioned company at that time was, for example, Christian Ludwig.
After the establishment of the Slovak state in 1939, the company has insurmountable financial problems and declares bankruptcy. Among other things, almost 300 barrels of wine and spirits, several thousand wine bottles, operating facilities, the Palugyay Palace, and the largest oak barrel with a volume of more than 17 liters were auctioned. The auctioned property traveled mainly to wine cellars in the Malokarpatska region - Svätý Jur, Pezinok, Modra, Rača and Bratislava.
Stanislav Glvánek became the owner of the palace on Pražská Street in Bratislava. He leased the palace premises for business activities, but rejected all offers to rent wine cellars. Palugyay's cellars under the palace are said to be one of the largest, if not the largest, in Europe.
Although Palugyay wines were drunk by the rulers of Japan, the Turkish Sultan, the King of Brazil and Belgium, or prominent guests on the Titanic, the beginning of World War II will forever be associated with the definitive demise of the original Palugyay company.